Drawer Connector is hot plug, integrated high current power contacts and signal contacts in one.Users can choose the terminal styles and the quantity of contacts according to the condition of their equipment.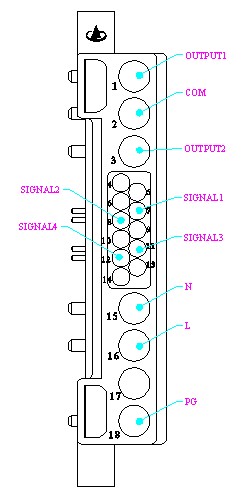 For example, 18 poles of male power connector, which has 7 pcs power pins, and 11 pcs signal pins, as above picture. Some our customer employ 4 power pins side as Input, the pin of position18 is for PG, which can be made longer, and contact PG in advance, the pin of position 16 is for live wire, the pin of position 15 is for neutral wire; and the pin of position17 is empty; For the signal pins section, they just choose four signal pins as attached picture, and the other signal pins are empty; For 3 power pins section, they employ the pins of position1 and position3 as output1 and output2 separately, and employ the middle pins of position2 as COM.
So, the customers just employ 10 pins of 18 pols of male power connector, empty 8 pins, and the above solution will save 30% cost. The 18 poles of male power connector employs bending pins, which can be soldered on mother PCB board directly without small PCB board, and the connector inserting direction is in parallel with PCB board.
For the 18 poles of female power connector, the sockets positions are corresponding the pins positions, so the quantity of sockets is the same as the quantity of pins, the terminal styles of sockets have crimping and PCB tail style.
As present, our power connectors are widely employed in telecom, railway system, electric system, photovoltaic system and the other industries.,which has been sold all over the world, Schneider Electric, Powerone and so on are our sincere business partners; High quality, competitive price and short lead time are recognized by our customers.